Is Governor Oshiomhole Scared Of Losing His Beautiful New Wife To Younger Men?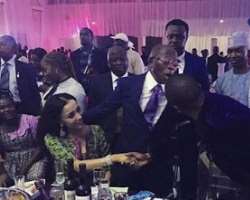 Every man who is privileged to have a beautiful wife? is always on the look out to protect her in order not to lose his priceless asset to another man.
That seems to be the case of Edo State Governor Oshiomhole who shocked the country last year when he married a young pretty damsel, Iara, years after the death of his wife.
Singer Dare Art Alade in a recent Instagram photo, revealed that the Governor who is much older than his new wife is indeed a jealous one and perhaps scared of losing her to younger men.
Dare captioned the throwback photo he shared with a funny recap of their conversation. He wrote; In Benin last September just after my performance, I went to greet Gov Oshiomole who had invited me to the event held in honor of Solomon Arase the IG of police and our gisting was too funny! Lemme caption this picture. ADAMS: Darey meet my wife Lara...DAREY: Nice to meet you (shakes hand)...ADAMS: Come oh Darey don't shake her hand too much oh! ARASE: Excellency leave him...if him over shake I will shake him up! Police is your friend...we will be friendly with him..."?