Ronaldo Wins 'nobel Prize'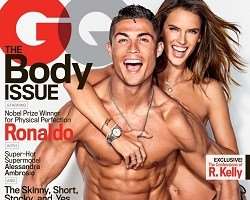 BEVERLY HILLS, January 17, (THEWILL) – Although, he didn't win the 2016 Ballon d'Or, Cristiano Ronaldo has been awarded a 'nobel prize' for physical perfection.
This was revealed as the Real Madrid winger bares almost all on the latest cover of GQ magazine.
Ronaldo, who takes great pride in his body and his ability to put every other male human to shame with his six pack was with supermodel Alessandra Ambrosio on the cover.
In the photo, the 34-year-old Brazilian model clings on to Ronaldo's shoulders, pulling down on a chain he is wearing.
Although, he gets a fictional award for the state of his sculpted body, Ronaldo emphasises his firm built with two clenched fists and a well deserving smile.
Obviously, he beats Lionel Messi in this department.
Story by David Oputah