Actress Dayo Amusa Hints On What She Wants In Her Dream Man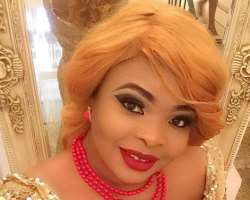 Yoruba actress cum singer, Dayo Amusa has said she is comfortable about her weight and has no intention of losing it. The plus-sized diva also spoke on what she wants from her potential husband.
On her weight, Dayo said she has no reason to tamper with her present stats. "People who embarked on a weight loss journey have a reason to do so. Whatever looks I spot at a particular time has nothing to do with anyone as long as I am comfortable with myself. I might decide to lose weight tomorrow but for now, I love the way I am."
On love and marriage, she hinted that indeed marriage is a good thing and a blessing from God but she would chose to keep her plans for a blissful union a secret.
"Marriage is a good thing and is instituted by God. Married couples must always remember that marriage is a good institution. Personally, I will never announce any details about my love life or marriage plans. It is a private affair.
The qualities I look out for in a guy are my personal business. I do not want it to look as if I am advertising what I want," she told Punch Newspaper.