Rapper Eva Alordiah Sends Sweet Message To Fiancé With New Photos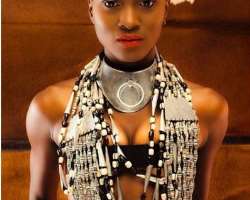 BEVERLY HILLS, January 16, (THEWILL) – Rapper Eva Alordiah is serving major face in these new photos by Kenyan photographer, Migwa Nthigah. We love!
The rapper who recently got engaged to her beau Caesar, sent him a romantic message on IG. She posted a photo of Caesar and wrote: "#ThursdayThirst
The eyes I am excited to look into for a long long long time
Eyes that searched me out like an Eagle in flight in search of worms
I am far from being a mere earthly worm but I do love how you have wormed your way into my heart,
A little wiggle here, a little wiggle there till you found a nice spot for yourself.
I like the feel of you there..
Thank you for coming
It doesn't matter anymore if I always come first
What matters is who comes for the stay
Since you have pledged to stay,
Yes I do ♥️♥️ @mr_ceezerleo"
How sweet!