OAP Tosyn Bucknor Robbed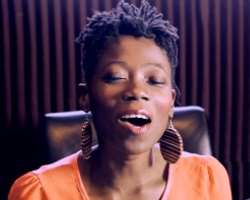 Popularly called 'Area Mama', On-Air-Personality and singer, Tosin Bucknor was robbed few hours ago by some petty thieves.
The starlet who tied the knot with her long time French fiancé, Aurélien Boyer, few months back almost had her office in Lagos burgled.
She narrated that although the thieves couldn't break in due to tight security, they managed to steal away few accessories they could lay their hands on through the window.
?"So, random.. Today i went to my own office (TTBH) and saw that someone had tried to break in through the window. I think it was a petty criminal because they didn't have the tools to be able to break in so they probably wanted to do that old trick of stealing valuables via the window.
"A safe tip for us all- please don't leave valuables where they can be easily accessed and pulled through windows and don't leave phones charging on window sills etc. Even your bags should be kept away from the window because a friend had hers dragged while she was sleeping and things taken out from it. Grateful!!! Praying for a safe(er) Lagos," she wrote.