Supermodel Oluchi Orlandi Launches 'lulu' Lingerie Line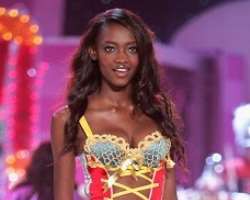 SAN FRANCISCO, January 14, (THEWILL) – Oluchi Orlandi is adding one more title to her portfolio – businesswoman.
The supermodel has branched into clothing and is set to launch her own Lingerie line named 'LuLu Lingerie'. The brand carries a range of inner wear, underwear & active wear from premium brands and caters to both sexes as well as kids.
Explaining how she came about the name Lulu, Oluchi wrote: "Those that are close to me call me lulu! Just in case you are wondering. It is the 'Lu' in Oluchi. It also stands for Love U Love U. Now say it out slowly LuLu! I believe in partnership always. So, WE have partnered with the premium brands to bring you value…! #SlightWork #Obcession #LuLuLingeria #LuLuStores You will love it! So help me God!".
Way to go girl!