Toni Tones Is The Ultimate Girl Boss In ZAZAII's Jaunary #InfluencerSeries Edition!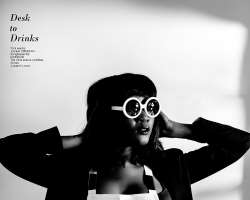 After kicking off their influencer series with TV presenter, Stephanie Coker, ZAZAII is back with singer, songwriter and photographer, Toni Tones as the ultimate girl boss showcasing a smart edgy style that can take a girl from office to drinks in a second.
Toni is channeling every working girl's dream New Year work wardrobe - she shows how to style work outfits to be professional and yet chic.
Check out the sultry songstress' 4 key workwear looks that will inspire every working girl's wardrobe.
LOOK 1
Leave the paperwork at your desk and swap your handbag for a party clutch when heading from the boardroom to the bar. A bold lip and statement jewelry will refresh your look. Try this Omowunmi top and skirt.
LOOK2
A blazer is one of the most important components of any working wardrobe. Nodding to craftsmanship and tailoring, Obsidian's monochrome style is a power piece. Paired with these TNL one piece culottes, you have a killer work look!
LOOK 3
A white blouse is the perfect foil to the elongated feminine silhouette of this embellished Purple Lagos skirt. The super-flattering cuts make this look perfect for the office.
LOOK 4
Every busy woman needs at least one work-day dress that is easy to wear yet commands authority. This TNL dress with its high neckline and long sleeves make a chic shift office-appropriate, and the color palette is universally flattering.
Principal Photography: Adebayo .
Subject: Toni Tones.
Hair & Makeup: Ayotemi Monads & Chrom for DARI
Creative Direction: AWEDA & Team ZAZAII
Shop these looks here: http://bit.ly/1Zh7YR3
For more fashion updates:
ZAZAII 36 Balarabe Musa, Off Samuel Manuwa, VI Lagos
Email: [email protected]
Follow ZAZAII on Twitter – https://twitter.com/experiencezazai
Like ZAZAII on Facebook – https://www.facebook.com/LEspaceAfrica/
Follow ZAZAII on Instagram – https://instagram.com/experiencezazaii @experiencezazaii
Also sign up for the weekly newsletter http://eepurl.com/luuon
About ZAZAII
ZAZAII is a multibrand store owned by Obsidian creative director, Isoken Ogiemwonyi, which stocks both the full range of Obsidian product lines and retails garments and accessories by both established and emerging African and international fashion brands such as Virgos Lounge, Eve and Tribe and Toju Foyeh. The name ZAZAII is culled from a Bini phrase meaning 'eloquent and dedicated'.
About Red Media Africa
Red Media Africa is a PR & Communication firm under the parent company, RED. An innovative media group focused on Africa, RED's vision is to excite and empower an evolving generation through the media's limitless possibilities. Built across tools and platforms, its Communication Division holds Red Media Africa, Red Marketing and Small & Medium, and YouthConnect; and its Content Division holds the Y! brands, including Y! TV, Y! Magazine, YNaija.com, Teen Y!, Y! 2015, the Y! Tech 100 and the Y! Annual Black Ball/Y! 100 Most Influential List. It also anchors a development firm, The Future Project Africa, which co-presents Africa's leading youth platform, The Future Awards Africa, and other projects including the Nigeria Symposium for Young & Emerging Leaders and The Future Enterprise Support Scheme.
LOOK 1 TONI TONES ZAZAII OMOWUNMI AKINNIFESI LAGOS GIRL BOSS
LOOK 3 TONI TONES ZAZAII PURPLE SHIRT CO LAGOS GIRL BOSS
LOOK 4 TONI TONES ZAZAII TNL ARIABA