Mercy Aigbe Reveals What Killed Her Elder Sister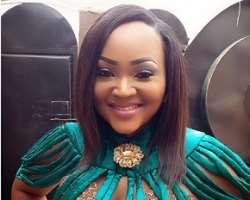 Nollywood actress, Mercy Aigbe, who is currently on set a movie, has began the year in a good note as she was recently unveiled as a brand ambassador of Dubai Afrika Sickle Cell Project.
The project is aimed curbing the increase of Sickle Cell patients in the country as well provide them with basic amenities for their daily survival.
While making the announcement, the actress revealed that she had lost her elder sister to the sickness and she sure knows how it feels to lose a loved one without being able to help.
According to her, "Am glad to be doing this with dubaiafrika. I lost my elder sister to Sickle cell and you don't know what it was like watching her helpless going through all those crisis hmmmmmm! Joy Aigbe continue to R.I.P."
She warned lovers who are about to settle down to know their genotype before saying "I do" to each other as to avoid unforeseen circumstance.
"They say love conquers all, but not in this case. We encourage you to Know your genotype before saying I do. Save the future. If you truly love each other; don't get married or make babies if genotypes don't tally," she wrote.