John Fashanu, Lover Scared of Spiritual Attack in Enugu State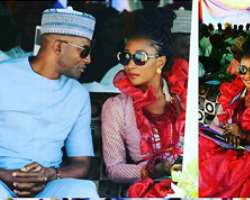 Ex-Nigerian international soccer star, John Fashanu and his rumoured Hausa actress beau, Rachel Bakam, are seriously having the best of time with the two love birds seen traveling together and not allowing any form of distractions hinder them.
Exploring the world they way they can, the two friends were recently honoured in at the Ofala festival from Eze Okwe kingdom in Enugu state.
At the festival, John was bestowed the title of Ofia-Afulu-Agu of Okwe Kingdom while his right hand woman was named the Ugo-Di-Namba of Okwe Kingdom.
According to Bakam, "We are grateful for the Chieftaincy titles conferred on us at the Ofala festival from the Eze Okwe Kingdom and the Enugu State Government. This is geared towards bridging differences in Communities, celebrating selfless service to human development and for being friends of the community. Amb Chief John Fashanu is now Ofia-Afulu-Agu of Okwe Kingdom and I am Ugo-Di-Namba of Okwe Kingdom."
Bakam speaking after the coronation disclosed that they were actually scared of accepting the title due to religious belief but were later convinced that there was no diabolical means attached to it.
"At first we were skeptical due to spiritual connotations but we discovered that this traditional community brings together Christians, Muslims and various tribes under one umbrella for the purpose of unity without any fetish acts," she said.