Lusambya tests first KO pain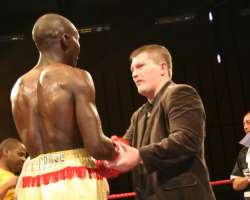 An over 100 kilograms like huge bang onto the canvas could be heard. That was the exact noise heard around the ring when Badru Lusambya alias 'Mr Crush' was starting to enjoy the pain of defeat at the hands of Craig Watson in the second round of the earlier 12 scheduled Commonwealth Light middleweight bout.
A minute and fifty seconds in the second round of the Light middleweight contest of the Commonwealth title, Watson generated wrecking blows to Lusambya's biggest venture of his career.
Dispatching Lusambya to the canvas, four times in the second round, not only pushed Watson in the backseat of the picture in an astonishing style, it was also a harsh lesson for 'Mr Crush'. It was a dreadful night for Lusambya's supporters who trekked the journey all the way from Plymouth to Wigan. Lusambya's supporters only enjoyed the first round as Watson employed other tactics in the second round.
This was not his day because; Lusambya could not live to his name ['Mr Crush] as a devastating punch from Watson sent him onto the canvas.
"His first punch in the second round disorganised me," Lusambya told this reporter just after the fight, an admission that he was in the same position as his previous victims who test the knock-out. He added: "You fight for a win or loss which is part of the game."
On seeing Lusambya landing onto the canvas for the fourth time, referee Marcus McDonnell stepped in to save a Ugandan and former Africa's welterweight Champion from further punishment.
The 28 year-old southpaw Uganda pugilist, Lusambya who had earlier scheduled to battle it out with Lees Edwards, in the same category, was persuaded into taking risk of the Commonwealth title fight at the last hour. But Lusambya could not march the stature of Watson, a former Commonwealth welterweight Champion and EBU [European Union] title contender.
Ambrose Mengy a former manager of the former WBC super middleweight Champion, Nigel Benn, told Lusambya: "You should not lose hope; this is the begging of championship." He added: "Two losses is not a big deal, champions like Manny Pacquiao have three in their career. Take your heart and learn some lessons."
Ricky Hatton also stepped in to soothe Lusambya and advised him to get to the drawing board to correct the mistakes.
"I'm so disappointed, how can he conquer African boxers and fail to win this man," Merissa, a black young lady with Rwandese intonation was heard consoling herself after the fight. Merissa who throughout the first round made noise from the audience had travelled to Wigan with a big group of supporters.
In another thriller, Denton Vassell snatched a Commonwealth welterweight belt after a splendid performance over Lee Purdy. In an inspiring bout, 25-year-old Vasell stirred all the three judges, awarding him with a 117-112, 115-114, 117-111 win.
In the Cruiserweight category, Matty Askin knocked out Mathew Ellis in the 5th round.
Heavyweight's Richard Towers beat Yavor Marncher with a technical knockout.
Super bantamweight: Craig Lyon beat Goerge Gachechiladza.
Super featherweight: Sergey Gulyakerich beat Nugzar Magvelashvilia.
Middleweight: Jez Wilson lost to Zimbabwe's Farai Musiyiwa.
Lightweight: Martin gethin beat Jon baguley.
Middleweight: Lee Edwars beat Jon Musgrave.
Lightweight: Alex Dilmaghani beat Johnny Greaves.