Ali Baba Explains Why He Prefers a Truck Than a Small Car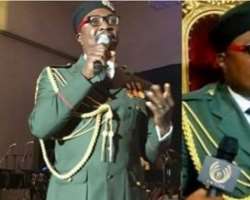 Veteran Nigerian comedian, Ali Baba, has always expressed his love for big cars especially trucks and he is seriously hoping to own one very soon.
For some people, they believe that big trucks are the kind of cars good for the Nigerian roads due to the bad roads in the country, while some believes that they are cars that are good the rainy season due to floods but the comedian has a different view.
Ali Baba's perception is that once driving a truck, in a head on collision, the truck is most likely to be safer while the other car will be badly damaged. This he expressed through a meme which he shared to affirm his desire for such car.
According to the comedian, "One of the reasons I like driving a truck. I know God protects us all o. But in a head on collision, I know which one I want my loved ones and I to be in."