Iyanya Calls His Fan Jobless After calling Him to Order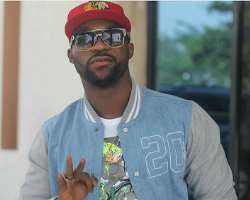 It seems year 2016, Nigerian fans have got no chill for their various celebs in the country as they now come after them at each activities done by these celebs they feel is not right.
Triple MG record label singer, Iyanya, is in the news as a fan has just come after him over the new style of signs he now makes at every event or posture.
The fan had called the singer out about the six sign which he now makes making him understand that God has indeed blessed him but wondered why he prefers to go with the sign instead which everyone already knows what it stands for.
According to the fan, iampapoosemoney; "What's up with the six sign. You better stop using that sign over what you are not. God has done so much for you, so dude be grateful rather than showing off stupid signs that everyone of us know what the sign means."
But Iyanya, who rarely respond to bully had to make his fan know that only a jobless person will have the time to make such observation about a fellow person as he described him of being "Jobless."