Uche Ogbodo Under Blast Over Nose Ring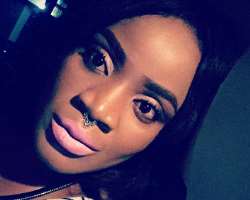 Nollywood actress, Uche Ogbodo, is in the news again and one begins to wonder when she will escape the wrath of her fans or what could be described as cyber bullying.
Recently, the actress began her new year in an angry note after she had shared her picture where she now goes about with a nose ring.
The new trend got some of her fans talking where they described her as being "Ugly." But this did not go down well with the actress as she has come out to let the world know that she is not under the control of anyone and can run her life the way she wants.
In her words, "At this Very Moment, I am King! And I will take my Crown to the Grave! Fuck your Opinion! An Ex taught me Never to Use the word Fuck but you know what? Fuck him too! I am too good for you. My Dad told Me, not everyone will like me, Likers are gonna like, Haters are gonna hate! but Fuck you too Haters! I've got my life to live. Done playing by your god forsaken rules. About now, We play it by Me or Fuck you too! Like I said Goddess did it! it wasn't Uche."