I Incurred Debt the Day I Married Uchenna Nnanna…Husband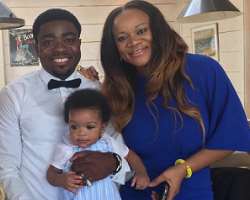 Nollywood actress, Uchenna Nnanna, recently joined those who are still rejoicing in the new year and also celebrating their birthdays this January, 2016.
The actress became a year older on the 3rd of January and she used the opportunity to appreciate every prayers and love shown to her.
Her loving husband did not hesitate to express his undying love for her as he used the opportunity to renew his marital vow to always love her unconditionally.
According to her husband, "With you as my wife and the mother of my children, I wouldn't have life any other way. My lifelong promise towards our marriage and family, is what I ceremonially renew again on your birthday. It seems that everyone knows you turned a year older except me. In my eyes you are exactly the way that you were when I met you for the first time stunning and gorgeous. May God continue to protect, guide and favour you. And may He continue to grant us many more fruitful years together.
"I incurred a massive debt on the day I got married to you, the debt of unconditional love and undying commitment. I promise to keep repaying this debt until my very last breath. I love you, It's still your day my Queen, my Super woman."