Bourdex Boss Stages High Octane Trado Marriage For Daughter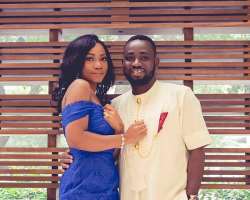 The traditional marriage ceremony between the daughter of the Chairman of Bourdex Group and Abia North Senatorial candidate of APGA, Chief Dr. David Ogba Onuoha, Angel Florence and Kalu Kalu Onuma held on December 26, 2015, at the successful businessman's resident in Abiriba, Abia State.
This high octane wedding which can better be described as the talk of the town wedding of the year held amidst fun fare, pump and pageantry.
With heavy flow of human presence and traffic, political supporters of the would be Senator of Abia North senatorial district took charge of the day, as mainly it could be stated that they stole the show, having turned the traditional wedding venue to a campaign arena in solidarity to their candidate.
As being uneasy to calm the mammoth crowd down, it could be informed that the Abiriba multi-millionaire never expected such turnout, even as he went further to accommodate them all.
For most witnesses, it turned out being a mirror into what the businessman's family life looks like, as they all rated him high for being organized in the buildup of a good Christian family.
Recalling, Dr. David Ogba Onuoha happens to be in the rerun race for Abia North Senatorial election, under the platform of the All Progressive Grand Alliance (APGA).
LJAY8467
LJAY8423