UK INFLATION RATE RISES TO 3.4%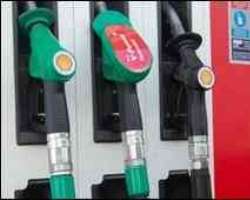 Higher petrol prices have contributed to the rise in inflation
The UK inflation rate rose sharply to 3.4% in March from 3% the month before, official figures have shown.
The rise in the Consumer Prices Index (CPI) inflation rate was greater than analysts had expected.
Retail Prices Index (RPI) inflation, which includes housing costs, also rose sharply to 4.4% in March from 3.7%.
The CPI inflation rate is the measure targeted by Bank of England interest-rate setters, while RPI is often used as a benchmark in wage negotiations.
Higher air fares
Higher petrol prices were an important factor in rising consumer prices, the Office for National Statistics (ONS) said.
I do know that the MPC is keeping a very close eye on inflation expectations – and pay settlements – to see whether the higher headline rates of inflation in the past few months are becoming self-perpetuating
Stephanie Flanders, BBC economics editor
Read Stephanie's blog in full
Petrol prices have been rising because of the relative strength of the dollar and higher refining costs, as well as the increasing price of oil.
The price of oil hit 18-month highs at the start of April.
The continuing impact of the rise in VAT, which went back up to 17.5% in January, and the effect of flat gas bills relative to this time last year, when they fell sharply, also contributed to the spike in inflation.
The ONS said increasing air fares, especially on European flights, rising food and non-alcoholic drinks prices, and higher clothing and footwear costs also played a part.
Offsetting these were falls in the prices of second-hand cars, furniture and household equipment.
Low rates
Despite the sharp rise in prices, analysts expect the rate of inflation to fall again in the coming months, as weak economic growth and high unemployment dampen price rises.
The governor of the Bank of England, Mervyn King, has said that he expects inflation to fall back towards the target rate of 2% in the coming months.
Analysts therefore expect the Bank to keep interest rates low to stimulate growth.
"We would not expect the Bank of England to be swayed by short-term movements in commodity prices, so today's figures should not have much bearing on interest rates. We still expect rates to remain on hold for the remainder of this year," said Hetal Mehta, senior economic adviser to the Ernst & Young ITEM Club.
UK interest rates have been at the record low of 0.5% for 13 consecutive months.
The policy helped to bring the UK economy out of recession in the last quarter of 2009, when it grew by 0.4%.
However, if prices continue to rise sharply, the Bank's Monetary Policy Committee may have to raise rates.
If the CPI inflation rate remains above 3% in April, Mr King will have to write another letter of explanation to the chancellor.