Kaffy Bleaching or Tonning? (photos)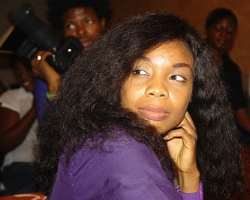 Popular female Nigerian dancer, Kafayat Oluwatoyin Shafau, better known as Kaffy, has gotten lips talking after she graced the red carpet of the just concluded Headies Award in Lagos.
The dancer, all dressed in a long netty gown, caught the attention of many not just with her dressing, but with the rate at which she has turned fairer than usual.
While some will want to argue that she has always been a light skin person and just toned up as it is being described now, some will insist that she bleaches her skin just to feel among.
She is well known for her incredible dance routine, what she does to her body is not anyone's business since her husband hasn't complain about it.
Anyways, it is her life, her money and she is entitled to care for it the way she likes.