Oil Up On Forecasts For Colder Weather But Supply Curbs Gains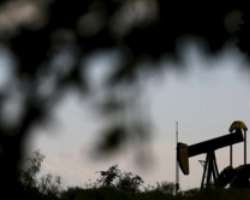 Oil prices rose by $1 a barrel on Tuesday in thin trade amid prospects of colder weather in coming weeks but the outlook for 2016 remained bearish due to slowing global demand and abundant supplies from OPEC members.
Brent and U.S. WTI crude prices gained more than 2 percent to trade above $37 per barrel as of 1415 GMT after falling 3 percent on Monday.
Brent traded less than two dollars above an 11-year low of $35.98 hit last week.
Both crude benchmarks are down by more than two-thirds since mid-2014 on U.S. shale oil output and OPEC member Saudi Arabia's decision to pump near record volumes to safeguard market share.
On Monday, Saudi Arabia announced plans to shrink its record $98 billion state budget deficit with spending cuts, reforms to energy subsidies and a drive to raise revenue from taxes and privatization.
"The budget likely signals no near-term changes to energy or foreign exchange policies," Bank of America Merrill Lynch analysts said in a note.
ING Bank analyst Hamza Khan noted Tuesday's oil price rise came in low trading volumes and after a possible drawdown in U.S. stocks.
Severe weather in parts of the U.S. south and midwest has disrupted shipments.
"But fundamentals remain very bearish," Khan said.
Saudi Arabia and Iraq have added output in 2015 and the world's production has at times exceeded demand by more than 2 million barrels per day.
Jaap Meijer, managing director and head of research at Arqaam Capital in Dubai, said the Saudi budget showed Riyadh was taking steps to weather a prolonged lull in oil prices.
"We do not expect Saudi to cut production in 2016 and expect them to continue with their current policy of defending market share," Meijer said.
The global oil glut is expected to worsen in 2016 as Iran has pledged to ramp up exports once Western sanctions on it are lifted.
"Iran is gearing up to flood the market with 500,000 bpd within weeks of sanctions being lifted, while the ceasefire in Libya may also add extra barrels," said Ole Hansen, the head of commodity strategy at Saxo Bank.
Saudi Arabia and its Gulf allies the UAE and Kuwait have said they are counting on global demand growth to help rebalance the market over the course of 2016.
But there are increasing signs that demand might slow much sharper than expected after a spike in 2015.
"The demand situation does not support a return to a higher price environment," said derivatives exchange operator CME Group.
Oil analysts JBC Energy said that oil product demand growth in Europe turned negative in October for the first time in 10 months and that diesel and gasoline demand growth in China was also slowing.
In the short-term, colder weather entering Europe and North America following an unusually warm start to winter may provide a mid-term boost to prices.
On Tuesday, British wholesale gas prices snapped a months-long bearish spell with week-ahead prices jumping 13 percent on forecasts for colder temperatures. U.S. natural gas prices settled up 10 percent on Monday.
REUTERS