Freeze & Basketmouth In Social Media War! Here's Why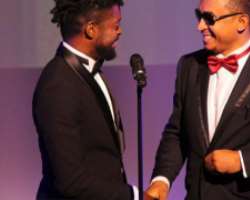 BEVERLY HILLS, December 29, (THEWILL) – Comedian, Basketmouth and CoolFM OAP, Freeze are currently at war on social media, Instagram to be precise. One wonders what could be the matter at this period when everybody is making merry and looking to end the year on a positive note.
Well… Daddy Freeze was at the Olamide Live In Concert yesterday (which was a blast by the way) and got to watch performances by music acts as well as Basketmouth who took the stage to crack some jokes.
Apparently Freeze didn't appreciate Basketmouth's comedy session and made it known on Instagram where he described it as "weak".
Not one to back down from disses, subtle or not, Basketmouth replied Freeze in the best possible way…
---

Now we know there's no lost love between these two but whose side are you on… Basketmouth's or Freeze?