MASSOB, IPOB, Boko Haram, Our Well-Being: How Well Has Buhari Fared?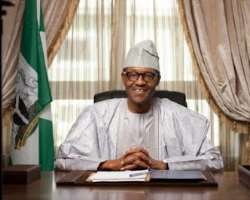 Borrowing a hackneyed quotation from the Shakespearean play titled Julius Ceasar and reciting it differently, 'we are no blocks, we are no stones and we are not worth than senseless things to be consistently taken in by the hard hearts and cruel men of Abuja''
Times, you will agree with me, are bad and hard in Nigeria, this informed our interest and desire to opt for a change, such that that will revitalize the obviously decadent paralysis under the former ruling People's Democratic Party. The leaders that led Nigeria during the sixteen years of PDP 'misrule' ensured that all democratic institutions worked exceedingly well.
The legislative arm made laws for the country, the executive ensured full enforcement of these laws and the judiciary played its statutory and constitutional role of interpreting the laws and applying it to cases. There was freedom of speech and that right to free speech was further protected and respected. Court orders were obeyed and were not flouted or disregarded under any guise.
Under the former ruling Peoples' Democratic Party, one could criticize without being hunted by the powers-that-be or without running the risk of being liquidated in possible bloody purges by people from the region from where the man at the helm comes from. This was democracy at work and everyone talked freely, governors transgressed the bounds of authority and decency via diatribes on the man at the helm recalling the scathing attacks by the likes of ex-Governor Fashola of Lagos State, Rabiu Kwankwanso of Kano State, Rotimi Amaechi of Rivers State.
Others are Governor Oshiomhole of Edo State, Aregbesola of Osun State and a host of other Arewa Field Marshalls and foot soldiers who left no stone unturned to make sure the former ruling party was sacked from Aso Rock, Nigeria's seat of power. It really did happen and on May 29, 2015, a new government was sworn in thus heralding the dawn of a new era in Nigeria.
A running battle was also extended to the social media, the situation is better imagined than real. Bloggers' services were retained nation-wide to discredit the former ruling party and as luck would have it many people were hoodwinked by the diabolic whims and caprices of the agents of change who played leading and devastating roles in bringing Nigeria to its present knees.
It is seven calendar months today that Buhari assumed the reins of power and we see our fortunes taking a nosedive. All we see and hear every day is the blame game which they are seemingly good at. Blame game mister is not what we voted for, we voted for a change that will give us the dividends of democracy, we opted for a change that will transform Nigeria, we desired a change that will secure for us and posterity the blessings of liberty, we called for a change that will reposition Nigeria in the path of economic prosperity and development.
Fortunately or unfortunately, what is on the ground today is high-handedness together with incompetence, repressive rule, selective prosecution, injustice, gradual extinction of the opposition by the federal might and the gradual emergence of a one-party state, flagrant abuse of power and sheer disregard for court orders. This marks a steep descent to none other than tyranny. Are we better off today?
Party affiliations have so blinded many to truly call a spade a spade and on inquiry you are often told Nigeria has been destroyed by the 16 years of PDP prodigal 'misrule', this often makes me laugh preferably in Chinese or Swahili. Seven calendar months, they say, out a forty-eight-month tenure is extremely infinitesimal to score the performance of this administration and considering the fact Buhari has been ruling on an inherited budget prepared by the Jonathan government we decided to keep mum and let us see what the ruling All Progressives' Congress' will be like.
About three days ago I took my time to read the budget speech and to my greatest chagrin I saw us being caught in the web of a vicious circle. The information minister Mr. Lai Mohammed rose to defend the hard times awaiting us in 2016 which he blamed on Jonathan. 2016, the government in Abuja has told us would be tougher than the twilight of 2015 because the first quarter of 2015 was, in all sincerity, comparatively better than the third quarter where a litre of petrol now sells for as much as N180 and the $1:00 dollar which Buhari had promised would be equal in value to N1:00 has risen astronomically to a whopping N280. Chances are that it will still nosedive following deafening pressure from supranational financial institutions like the International Monetary Fund (IMF) to further devalue the naira.
In the area of insecurity, the Federal Government said they are winning the war against the insurgents in the northeastern flank of the country. Lai Mohammed, Nigeria's Minister of Information and culture said they have met the self-imposed December deadline and the insurgents have been dislodged from the embattled region but only yesterday, it made news headlines across the world that Boko Haram militants sitting astride bicycles sacked a whole village, Kimba to be precise in Borno State killing as many fourteen people and torching their homes. Ironically, this is the same week the President said he has 'technically' defeated the jihadists. In what dangers would these heinous lies further lead Nigeria?
Nnamdi Kanu was swooped on four months ago by Buhari's secret agents and handed over to the men Department of State Security Services, (DSS). This is a young man who has not committed any violent felony and some of Nigerian erudite judges finding him harmless and guiltless ordered his unconditional release from detention, but the judges have only found themselves speaking to stonewalls a sad reminder of late Idi Amin's reign of terror in Uganda.
In a bizarre turn of events instead of heeding court orders and unconditionally releasing the detained IPOB leader, the Buhari-led Federal Government slammed a fresh six-count charges of treason. Where and when did Nnamdi Kanu ever commit violent felonies to attract treason charges? You know as well as I know that he did not, here is a man who has only exercised his freedom to free speech.
Could this be a government founded on lies and deception to further annihilate Nigerians? Could this be a government that would be sending us to untimely graves considering the massacre of over 300 defenceless shi'ite Muslims last week by soldiers in Zaria, Kaduna State and buried secretly in mass graves? Could this be a government that is devoid of focus and direction considering a tougher 2016 salvo they just fired when Nigerians are already sapped and pauperized?
Iyoha John Darling, a social activist, scholar, opinion leader and public commentator on national and global issues writes from Turin, Italy.
Disclaimer:

"The views/contents expressed in this article are the sole responsibility of the author(s) and do not necessarily reflect those of The Nigerian Voice. The Nigerian Voice will not be responsible or liable for any inaccurate or incorrect statements contained in this article."
Articles by Iyoha John Darlington