Flavour's Manager Weds Lover In Anambra (Photos)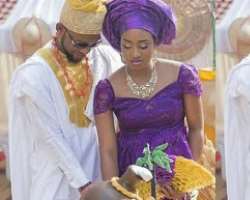 Abeg what matters is for you to know how to use what you have to get what you want, peeps lets face the fact, biggy Sherrif is so blessed in many ways. Lets look at the parent side of his life,the father is a living legend from the fuji stage 'Alhaji ayinla Kolllington and a long standing mother in person of Alhaja queen Salawa Abeni 'waka queen'. Looking at him in person he has a lot going on for him ,he graduated from a reputable university in United kingdom before he eventually moved to naija to join the family trade mark,which is music.
So I say big ups to biggy sherrif for using what you have to get what you want. Sherrif the sky is your starting point and no weight can pull your morale.