More Nude Photos Of Khloe Kardashian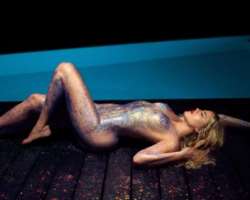 BEVERLY HILLS, December 28, (THEWILL) – We can only imagine how Khloe Kardashian had to work her ass off (literally) to achieve the trim physic she's been flaunting on social media.
She's been teasing us with photos from her impromptu shoot staged while on holiday with her famous family in St. Barths in August and she isn't even close to being done yet.
Hours after sharing more photos from the nude shoot, she gifts us with even more and boy… do her derriere shine through! KoKo's butt looked ah-mazing coated in blue and pink glitter, which she showed off with pride.
The reality TV star is seen in one photo lying on her back with one leg raised, accentuating her famously shapely derrière. In an even more brazen picture, she was photographed from behind with her hands on her hips – a pose which showed off her diminutive waist, while she arched her back to show off her bedazzled bottom.
See another photo below!