See What Oyo State Governor was Doing with is Holiday (Photo)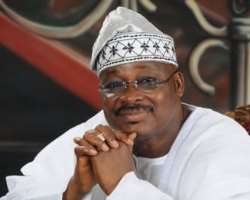 Sometimes it is not all about work and protocols all the time but there should be some means of relaxation with the people who have shown you respect and care.
This was the case of Oyo state governor, Abiola Ajumobi, as he was pictured relaxing with his security aide. Such act is really to show that there is no one that is too small to relate with no matter the position one finds himself.
Showing that he knows how to unwind when he is not in the office, the governor had to take out time to play the game of draft with one of his security aides and he does not care how many might perceive this anyway.