2016 Budget A Good Document That Won't Experience Much Difficulty At Nass – Saraki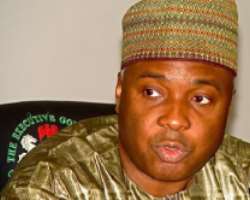 SAN FRANCISCO, December 26, (THEWILL) – The Senate President, Dr. Bukola Saraki has reassured that the 2016 Budget proposal presently before the both chambers of the National Assembly would be accorded speedy passage to ensure its smooth implementation.
Disclosing this to State House correspondents after leading select FCT residents to pay Christmas homage to President Muhammadu Buhari on Friday, Saraki noted that the 2016 proposed budget is a good document which will not have much difficulty scaling through the National Assembly.
Noting that the proposed budget is aimed at tackling the nation's problems, he advised that when passed into law, the executive arm of government must guard against bureaucratic bottleneck that will militate its effective implementation.
According to him, "You know as we said, we are going to work on the budget as quick as possible."
"We are conscious of its importance to Nigeria and we are not going to waste time. As soon as we come back, we get down to work and do what we have to do."
"It is a good document. It has addressed the major issues, 70 per cent capital and infrastructure. The key issues now are really implementation."
"We, as a National Assembly will ensure that we get our oversight right."
"By and large as a document, it is a good document and I am sure it will not have too much difficulty passing through the NASS."
"The key issue is implementation to ensure that the bureaucracy does not kill the joy of the implementation of the budget. We will do our part,'' he assured.
The Senate President went on to assure Nigerians that the legislature would continue to perform its legislative duties aimed at addressing the security and socio-economic challenges facing the country.