DJ Emesoul - 2nd Baze Hip-Hop Mixtape Vo.1 | @Emesoul1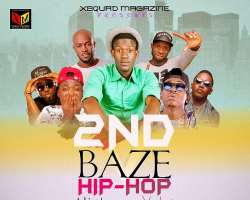 LISTEN | POST | TWEET | SHARE
Finally Out! It's World Premiere. #XsquadMagazine presents the much anticipated Hip Hop mix of the season as Raffia City Finest Dj Emesoul debut his first Official Mixtape titled '2nd Baze Hip-Hop Mixtape Vol. 1'.
The 21 Tracker Hip-Hop Mixtape features 9ja Beat Murderers and South-South Most Promising Artistes; MI, Xbeef, Dj Santo, Olamide, Sarkodie, Sagas, Ikpa Udo, OlahJaey, Anyta, Ice Prince, 3E, Phyno, and iLLbliss. It's a must listen Mixtape. Download, Listen and Share, while anticipating other Dope Mixtapes from the Raffia City Official Dj.
Tracklist
Intro - Xbeef
Xbeef – Freedom
Sheydeey ft Iyanya x A Pass – High
Tyga ft Rick Ross x 2 Chainz – Baller Alert
Mr Olu Maintain ft Mc Galaxy – Chop Knockle
Dj Santo - All the Way ft Ogiver
Olamide – Jega
Sagas – Form Hip Hop
Ikpa Udo ft Lybra x Zillions – Control
Eyan my weather – Olamide
Crazy Love – Anyta
Dolla - Xbeef ft Eddy billz x Young swags
Korede Bello ft Tiwa Savage – Romantic
Real Nigga - Olamide x Phyno
Lil Kesh ft MVP – Maphian
2kriss ft Lil kesh -koni koni love
Timaya -Hallelujah.
Ojuelegbe – Sarkodie
Ojuelegbe – Wizkid
Ride with me –Nelly
Run Town – Successful
Outro - Xbeef
Proudly #RaffiaCity.
Powered by @XsquadMagazine
Connect with Dj Emesoul on Twitter: @Emesoul1