Join Us Or Face Abduction, Miss Iraq Threatened By Isis!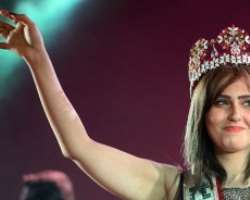 BEVERLY HILLS, December 24, (THEWILL) – Despite the dangers of ISIS and death threats to contestants, the Miss Iraq beauty pageant was successfully held for the first time in over 40 years.
Shaymaa Qassim, a 20-year-old from Kirkuk, became the first person to claim the title of Miss Iraq since the event was last held in 1972.
However in a shocking twist, the newly crowned queen received a chilling phone call on Tuesday warning her to join the ranks of ISIS or face abduction reports media in Kuwait.
The beauty queen from the city of Kirkuk in northern Iraq was distressed by the phone call, but has said that she will not let the threat stop her. She expressed her determination to "continue forward despite any obstacles," according to a report published by the organizers of the Miss Iraq competition.
Qassim is set to represent Iraq in the Miss Universe contest to be held in Thailand in March 2016.
---
Source: The Jerusalem Post|DailyMail