Get Foreign Loans From African Looters Not Imf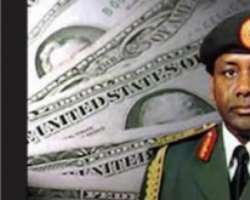 There was this nightmare about a family that was robbed. He was taken to the Police Station to identify some of his robbers. He could not see any of those that "visited" his home. On the way out, he was introduced to Sergeant-in Charge. When their eyes met, the man fainted. It was the Sargent that led the robbers!
When Buhari, the new Nigerian President was shown evidence that Abacha looted all that money, like the head of the family, he fainted. He could not believe Abacha his Head of State and the Army led robbers to loot Nigeria blind. He swore it was a lie!
Haba, you cannot paint everyone with the same brush. Dare call their son and daughter looter, a whole village or town will turn against you. As long as we faint out of fear of identifying the Sergeant; join them because we cannot beat them; or government money is nobody's money; we'll go on in vicious circles forever.
As western countries debated where to return Mobutu, Selassie or Abacha's loot, they had to identify the saint, the Sergeant and leaders to give back the money. Some argued that the loot should be left in high yield bonds to earn high interest for creating special African projects in Nigeria, managed internationally.
Others claimed that the money could have been better spent on projects managed by British or Zimbabwe banks! The rational is that colonial masters or "Mugabe" white farmers were better than our own politicians that suck our blood dry like vampire without any responsibility or anyone to hold them accountable.
Many of our leaders felt insulted, they assured these countries that the money would be held in special trust for development and infrastructure specifically. European and Americans decided to release the money gradually instead of consolidating all Abacha accounts into one and releasing it to one administration.
Why would careful and rational western banks return Abacha loots through the trained agents as those that negotiated for Abacha? One would have expected them to faint like the man that was robbed by the Police Sergeant. What some of us do not understand is that financial market prefer familiar faces trained by them.
One of the problem they have with African trained Accountants is their unfamiliarity with Wharton School of Finance, Harvard Business School or MIT School of Management. Coming from Fourah Bay College, University of Ghana or University of Ibadan is well understood, but would expose chicanery. "You know what I mean?"
The irony is that Africa's dutiful and honest accountants either on New York Wall Street, London Bond Street or Lagos financial center that are too particular would not get enough contracts to pay employees or feed their families if they dare mind African interests. Well, that may be too harsh but the point is made.
How could that be? The Minister of Finance for Abacha was one respectable head of Peat Marwick, Anthony Ani. His integrity was unquestionable among world accountants. Indeed, another don of accounting, Pa Akintola Williams' firm had audited failed banks.
These firms were the ones that audited and gave most respectable banks high marks before they failed. Very much like the rating firms on Wall Street, before world financial mess tumble on all of us and drag world economy into recession. But we have to be careful so that we do not hastily condemn all accountants.
Returns started from the time of Obasanjo to the Administration of Jonathan with the excuse that court processes, bank fees and retrieval would take some time. Like the head of the family that was robbed, they found Okonjo Iweala a familiar internationally trained OBJ's minister. She reappeared to work out the return of Abacha's loot. She was no different from Abacha's Anthony Ani.
There is a difference between the charity sign of the Cross and financial sign of Mercedes Benz. The act of business management requires certain principles. Capitalist system necessitates some understand that not everyone can obtain credit to speculate in the market. The Nigerian guy that beat Wall Street at its game years ago was denied profit because he had no reputable credit.
When it came to Abacha loot, no matter how sincere a government, it is the commissioned agents that scout the banks, "put" money in, sell or buy in the market. They get paid each time. If you are not aware of any, you will be introduced to them by the bank or financial industries. They do not make a deal with strangers!
If you think there was a better way to return Abacha's loot, you have to devise a new method in Africa which may be against their interest but acceptable to abettors where they saved their loot.
If you want to stop it, support a crusader outside or in your ethic group, outside or inside your party or like Boko Haram, go fish out your son, daughter, if they join the looting class.
Written by Farouk Martins Aresa.
Disclaimer:

"The views/contents expressed in this article are the sole responsibility of the author(s) and do not necessarily reflect those of The Nigerian Voice. The Nigerian Voice will not be responsible or liable for any inaccurate or incorrect statements contained in this article."