Iyanya, Bryan Okwara Share Rice In Ajegunle (Photos)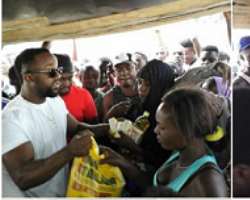 The year 2015 will soon come to an end and many Nigerian celebrities have been thanking God for successes recorded in the year.
As part of their ways of giving back to the society, various celebs have been extending their hearts of gold to the less privileged.
Recently, handsome actor, Bryan Okwara along with the Triple MG crew and others were in Ajegunle, a slum in Lagos to show love to kids in the community.
They reportedly shared bags of rice to the children and the beneficiaries of the donations were glad for the gift items.