My Marriage Still Intact—Nollywood Star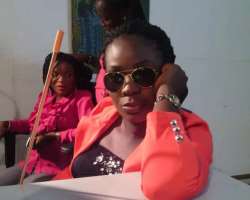 A former television reporter and broadcaster turned actress Motilola Adekunle, whose marriage to an Air Force husband is said to be heading towards the rock after she was spotted without her wedding band, has responded to the issue.
It was reported that Motilola's union was not going well because of an alleged strained relationship between her and her mother-in-law. It was rumoured that the actress' mother-in-law believes she is too expensive for her son.
It was further reported that Motilola's husband has been trying hard to resolve the issues with his actress wife, but she is allegedly bent on ending the marriage and not ready to return to her matrimonial home.
But speaking with Kemi Filani, Motilola denied the allegations and wondered where they emanated from. The charming lady claimed she is in good terms with the mother of her husband and said her union is still intact.
The couple is blessed with a child.