Nigerian Celebs Who Go To White Garment Churches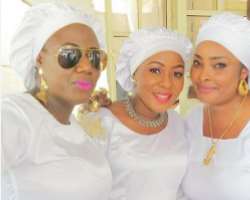 The Nigerian entertainment industry is blessed with numerous stars who have one way or another made huge impact in the society and are seen as role models to many.
Lots might have been said about some of these celebs including their lifestyles, business and other, but in all, they are still humans who do things others do, including practicing one religion or another.
In Nigeria, people tend to have reservations for those who attend white garment churches and when a celeb is associated with one, eyebrows are raised.
This was the case when Don Jazzy revealed his Cherubim and Seraphim root and buttressed it with an old family picture. The reason for this is what is still a mystery to some people.
However, below are some of the stars in the entertainment industry in Nigeria who attend white garment churches that Nollywoodgists.com put together.
Don Jazzy, Ronke Oshodi, Lizzy Da Silva, Omobaba, Adediwura Blarkgold, Ronke Odusanya, Comedian Princess, Lepa Shandy and others.