Portia fumbles!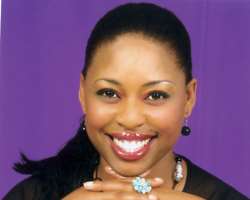 Portia Yamahan became a celeb when she participated and won in the next Movie Star reality show.
It is no longer news that she lies to attend social events around the country. Portia tries her possible best to be at any event that she is invited to.
She attended an awards event recently and nfc gathered that the babe was quite excited about it.
When she was called upon to present an award and in her excitement, Portia fumbled on stage. As a matter, she was said to have virtually forgotten her lines.
The teleprompter was meant to reel out the names of the nominees. But Portia forgot that bit as she kept calling the names, even when she heard the voice from the teleprompter. And then her co-presenter Andy Chukwu, spoilt the whole thing by announcing the winner ,while the teleprompter was still reeling out names of nominees.
The guests couldn't help but laugh at the two Nollywood personalities while they fumbled on the stage.
Written by Nonye Ben-Nwankwo
WWW.NIGERIAFILMS.COM
Story by nollywoodgists.com