2Shotz Picks New Lover? (Photo)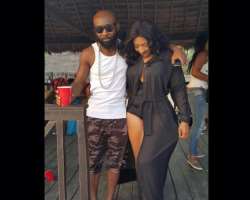 Just yesterday, top rapper, 2Shotz eventually reacted to the wife battering allegations leveled against him by his estranged wife, Precious Jones.
As tongues were wagging over his choice of words on Instagram, the singer further fuelled it by sharing a picture of himself with a female friend having fun at the beach.
He then wrote, "Good people, happy place"?.
As expected, some of his fans have started sharing their opinions on the father of one.