Exclusive Pictures of Dagrin in Hospital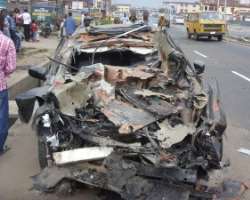 As we reportedly exclusively earlier, Dagrin is still at the Lagos University Teaching Hospital, where Doctors are working hard to stabilise his condition after a nasty crash that left him comatose, yesterday.
We have now obtained pictures of Dagrin, lying in hospital, as well as those of his badly-damaged car…
Here's what happened exactly, according to our reporter who visited LUTH today
He went to his father's place at Meiran on Tuesday and left 7pm the same day for his fried's place. The friend's name is James. He was
leaving James place on Wednesday morning at 2am.
The incident happened infront of Alakara Police Station in Mushin. The truck was parked outside the police station on the road.
The truck was a truck delivering cement. He ran under the truck and his car was crushed.
The police removed Dagrin's plate number before his folks who had rushed him to the hospital came back to the scene.
He first rushed to T & S (Tai Solarin) Hospital at Olosha in Mushin and the doctor advised the family to take him to LUTH for intensive care since they don't have the facilities required.Though they gave him first aid there.
He has been unconscious since the incident, but 5.49pm Thursday evening, the family got relaxed that he is getting conscious.
His father and Tunde went in to see him at 5.35pm after a long wait outside without anyone being allowed inside the ward he is being treated.
He had a cut in his face, jaw and a swollen head, but no fracture.
By 'Dayo Farore
WWW.NIGERIAFILMS.COM
Story by nollywoodgists.com