Desmond Elliot Shows That Life is Simple (Photo)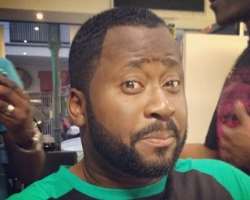 Nollywood actor and Politician, Desmond Elliot, despite his status has chosen to ensure that he gets closer to the people wherever he goes to without allowing his security aides to disturb them from coming close to him.
The actor who has been very active at ensuring that he develops his Surulere constituency, recently showed how simple life is all about when he shared a picture of himself having soaked garri as lunch.
The law maker was seen having well mixed garri with a plate of fish positioned beside him. Just like a popular governor who likes associating with the masses, Desmond is also following such steps to show his simplicity.