Fuel Subsidy Has 'Many Demons', Remove It Now – Tinubu Tells Buhari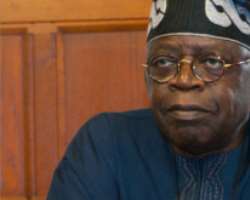 SAN FRANCISCO, December 19, (THEWILL) – A National leader of All Progressives Congress, APC, Asiwaju Bola Ahmed Tinubu yesterday requested the Muhammadu Buhari-led administration to immediately remove fuel subsidy, advising that the phase-out should be done alongside the implementation of social programmes that would benefit the poorest and most vulnerable Nigerians.
The former governor of Lagos state, who made this call while speaking yesterday in Kaduna at the 10th memorial anniversary of late Dr. Bala Usman, a politician, and former lecturer with Ahmadu Bello University, ABU, Zaria, alleged that fuel subsidy came with "many demons"
According to him, "In a perfect world, I wish we could sanitize the subsidy regime and thus continue with it.
"However, I have reached the conclusion that there are too many demons in the system for that hell to be turned into heaven."
"It is better that we remove it, not for the austere purpose of saving money but to use the money more wisely that we might better save the people. Let us begin a process of a thoughtful, but decisive subsidy phase-out."
"While this is occurring, we should simultaneously phase in social programs benefiting the poorest, most vulnerable among us."
"Programs such as transportation subsidies, school feeding, improved basic medical care and coverage for the poor, and potable water projects are some of the things that can be done with the same funds."
"This way we can undertake this massive expenditure confident that the fruits will go to the hungry, not the already too well fed."
"End the fuel subsidy. Subsidize the people instead – Subsidize the people instead!".
Earlier in an address of welcome, the state Governor, Malam Nasir El-Rufai extolled the virtues of the late historian, saying, "He cared about ordinary people and spent his life fighting for the common man.
"He gave everything he had, his intellect, his resources to advance the life of the downtrodden in Nigeria, this is why we are very proud of him."
Bala Usman served as the Head of History Department at ABU in the early 70s, and was between 1979 and 1981 appointed Secretary to the State Government, SSG, during the administration of former governor of Kaduna State, Alhaji Balarabe Musa.