Daddy Showkey Moves From Ghetto To Glory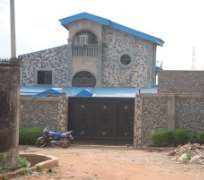 Daddy Showkey is back in the news. No, He has not scored another major hit with his music career which took a nose dive few years ago. But the 'ghetto soldier' has just completed the property he's been building for six years.
Showkey first found fame in the early nineties, as a member of rested group Pretty Busy Boys. And when he dropped his debut solo album in 1994, it was clear he was on the path to success; finally on the road to fortune, after years of roaming the streets of Ajegunle ( a notorious Lagos ghetto).
Fast-forward to a decade and-a-half later: Showkey has scored some of the biggest hits of this time (remember 'Dyna'?); he has dined with Kings and got Presidents eating from his palms. He has seen more cities than anyone in his lineage and planted his name in the heart of millions across the world.
But the past few years have not been so fab. With a failed album plaguing his career; a car crash that left him grounded for long; constantly dwindling income, and an increasing decline in patronage for his music genre, it looked like Showkey was out and over. And we were afraid he could be moving back to the ghetto – until we saw this picture of his newly-completed home in Ojodu; a Lagos suburb.
NET gathered that the house; located at Bola Akintunde Alabi, Victory Estate Ojodu, Lagos has been under construction for about Six years. Built on two plots of land, the property was said to have cost about N86 million naira.
Of all his Ajegunle contemporaries, Showkey is the only artiste now with a solid property to his name; amongst other amazing career achievements. Others: Daddy Fresh, Sexy Pretty, Cashman Davies, Angel Zig Zag, Tallman and Chameleon have failed to make anything remarkable out of their careers, in spite of their awesome talent and years of hardwork.
SHOWKEY'S NEW HOME – QUICK FACTS
•The building has been under construction for over Six years.
•He had been living at the BQ before finally completing the houses few weeks ago.
•The house is on two plots of land.
•A plot of land where the house was located costs between N10 million and N15 million.
•The building has a penthouse.
•The house was beautified with bricks which make it not require painting.
•Following his career success, Showkey moved from Ajegunle to a three bedroom apartment in Ojodu where he lived before completing his own home.
•The house is said to have a basement, a recording studio, a gym and a massive swimming pool.
WWW.NIGERIAFILMS.COM
Story by nollywoodgists.com