Cossy Orjiakor Gets Sexy Tattoo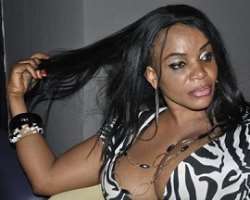 Controversial Nollywood actress, Cossy Orjiakor, has just gotten herself a new tattoo with her name nicely written underneath the Rose flower designed on her skin.
The actress, who is still single has just been making her money silently and investing it on her pets and having fun with herself as she rarely hangout these days.
Presently not in a location, Cossy, sure knows how to attract fans to herself anytime she needs that attention given her eccentric nature.
She recently visited Germany and was criticised on social media for flaunting her boobs despite the temperate weather over there.