Pro-Biafra Agitators Protest In Lagos Causes Traffic Logjam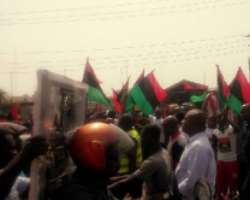 BEVERLY HILLS, December 16, (THEWILL) – Traffic in Ojo area of Lagos State was brought to a standstill as hundreds of pro-Biafra supporters took to the streets in continuation of their protest for the actualisation of the state of Biafra and the unconditional dismissal of the charges of terrorism against the director of Radio Biafra, Nnamdi Kanu.
The protest was heavy around Alaba International Electronics Market, where majority of traders are Igbos from eastern Nigeria. The traders shut down shops and restricted vehicular movement in the area, leaving motorists groaning in the heavy traffic build-up.
The Biafra supporters said they would continue their protests until their demands are met.
"We have been pushed into protesting. Why will the government continue the persecution of the Director of Radio Biafra, Mr. Nnamdi Kanu. People have the right to voice out their opinion. He was not a threat at all," said Anayo, one of the protesters.
"Another protester told journalists that, "We were singing solidarity songs, and marching through the streets to express our grievance on the trial of Nnamdi Kanu. We all dispersed when news came in around 1pm that he had been freed from the court trial," he added.
A Chief Magistrate Court, Wuse zone 2, Abuja, headed by Judge Shuaibu Usman, Wednesday discharged Kanu and struck out the charges against him after holding that the Federal Government had dropped all charges of criminal conspiracy and ownership of an unlawful society it had brought against him.
Prosecutors say they will charge him before a higher court for charges related to terrorism. Kanu remains in the custody of the state.
A detachment of policemen from the Ojo, Ajangbadi, and FESTAC Area E Command were however seen on the highway monitoring the activities of the protesters to ensure that it did not turn violent.
The Lagos State chapter of the All Progressives Congress (APC) had on Tuesday warned members of the movement not to stage any protest in Lagos.
The party, through his publicity secretary, Joe Igbokwe, warned MASSOB and IPOB against plunging Lagos into crisis.