Cynthia Morgan Steps Out Without Nose Ring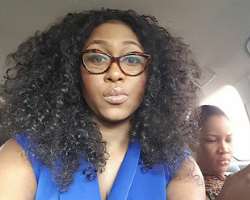 Northside music artiste, Cynthia Morgan, has been given thumbs up by her followers after looking very unique in her lovely blue outfit.
The singer was applauded for her outfit which was so on point and above all, she did not have her nose ring on.
Cynthia Morgan disclosed that she hardly steps out in such outfit, but said she decided to dress that way because she was attending the end of year party of her family member.