Florence Onuma Twins Mark 23rd Birthday (Photo)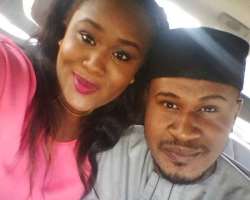 Veteran Nollywood actress, Florence Onuma, is one of the female stars that have managed a steady home, despite the rising rate of divorce cases in the Nigerian entertainment industry.
Onuma has been happily married for over two decades and blessed with a set of twins; a boy and girl who clock 23 years today, Tuesday, December 15, 2015.
The excited mother took to her social media page to recall what she went through the day she had the twins.
"Exactly 23 years ago, at Havana hospital then on Folashade Close Surulere, Lagos, at about 2pm, the pain became unbearable, my pelvic bones as if being grinded in a machine, I screamed and prayed for my life and that of my babies. Then bum! These angels were sent from God to beautify our lives and marriage and to reward me for the pain.
"When I opened my eyes and saw them, I smiled and said oh what a sweet pain that was. I instantly prayed that every woman should experience this sweet pain," she said.
The movie star also used same opportunity to pour out prayers on women seeking for the gift of the womb.
"On this occasion of my children's birthday, I pray for every woman trusting God for the fruit of the womb to receive double portion like He gave me IJN Amen. Happy birthday to the Onuma twins, enjoy your day my angels. Mummy and daddy love you so much."