I Would Have Dumped My Hubby If….—Shaffy Bello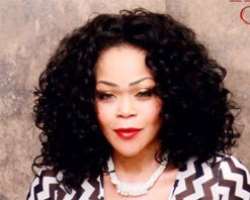 Nollywood actress, Shaffy Bello who shot into limelight when she appeared in Seyi Shodimu's hit song 'Love Me Jeje,' has given hint on what some celebrities have not thought of for a while on why some union do not last long.
The pretty mother of two in an interview stated she has been able to manage her home because the grace of God has been sufficient for her. She noted that her marriage has been able to stand the test of time because she got marriage at a matured age.
According to her, "It's by the grace of God. I'm not doing anything right, except what God has given me the grace to do. I believe that the reason I still hold my marriage dearly is because of maturity. I didn't come into the industry when I was 21, so that makes the difference."
Shaffy explained that some celebs that get married at young age will have problem as she confessed that if she had gotten married at tender age before delving into entertainment the marriage would have ended.
"When you come into this game at a young age, you may have issues. I have never said this before but I believe that if I had come into this game at a younger age, I would have left my husband; it's very possible. I have two beautiful children (19 years and 17 years old), and a husband who loves me dearly and supports me as best as he can as a man. He also trusts me enough. He's in the States with my children. I go home and spend 60 percent of the time and sometimes 40 percent of the time because he trusts me and I trust him," she told E24-7.