Nickelodeon Brings Teenage Mutant Ninja Turtles To Nigeria For The First Time Ever
…As "Nickmas" Celebrations Kick Off With Huge Christmas Tree At The Ikeja City Mall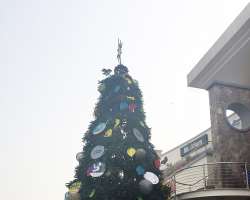 Lagos|Nigeria, 12 December 2015: Kids and family channel Nickelodeon (DStv channel 305) is set to brighten up the festive period for Nigerian kids this December with its annual "Nickmas" Christmas event.
Adding a fresh twist to this year's celebrations, the Teenage Mutant Ninja Turtles will be coming to Nigeria for the first time ever to join fellow Nickelodeon pals Dora the Explorer and SpongeBob SquarePants in marking the holiday season.
Young fans will thrill to a series of Teenage Mutant Ninja Turtles shows at the Ikeja City Mall between 16-18 December, with a meets and greets with the Turtles, face painting, giveaways and other fun activities.
The festivities will continue with the Nickelodeon Gift-a-thon, a toy donation drive for underprivileged children between the ages of 5-10. Nickelodeon will be supporting internally displaced children affected by the crisis in North-Eastern Nigeria by requesting a range of donations of toys, school supplies, dry food items and clothing.
Bring joy to the faces of your little ones with a trip to see the giant Nickelodeon Christmas tree at Ikeja City Mall, which will remain in place until 8 January 2016.
Teenage Mutant Ninja Turtles airs (Mon-Fri at 15:10 CAT; Sat at 10:50 and 16:25 CAT ) on Nickelodeon (DStv channel 305) and on Also, STV every Friday afternoon at 4 pm (local time).
To find out more about Nickelodeon's "Nickmas", please visit www.nickelodeonafrica.com , follow us on Twitter @NickAfrica, on Instagram at Nickelodeon_Africaor like us on Facebook at NickelodeonAfrica. To join the conversation about NickMasplease use the hashtag #NickMas.