Hardwork: COSON Rewards MC Galaxy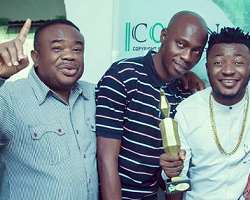 Popular Nigerian singer, MC Galaxy, is one of those entertainers that will be able o brag that the year 2015 has indeed been a good year for him.
With a car gift from the former governor of Akwa Ibom state, Godswill Akpabio to releasing an album and winning various awards, the singer sure have every cause to glorify his creator.
The singer has indeed held the year 2015 with the release of some hit singles which has continually seen him display his dance dexterity which has attracted large fan base for him.
Better addressed as an entertainer, the singer recently got rewarded before the year ends by the Copyright Society of Nigeria as his song 'Sekem' won the Best Dance Song of the Year.