Lola Alao, Bukky Wright Best Friends Ever (Photos)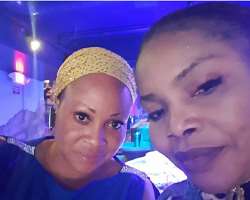 Nollywood actress, Lola Alao and fellow actress, Bukky Wright, are just set of friends that cannot be easily separated as they try as much as they can to patch up their difference without allowing third party to step in.
The duo have been friends for a long time as rumours have it that Bukky has been one friend who has been able to show support to Lola especially during her trial periods and has still remained a very good friend who is always ready to support.
Lola, who was rumoured to have sold out her movie equipments to raise money to relocate abroad, was recently seen hanging out with her best friend, Bukkky, who went visiting.