What's Denrele Up To?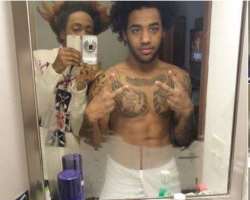 Christmas is that time of the year we come together as a family, to exchange gifts, dine and wine together in celebration of the birth of Jesus Christ. Is a time to disconnect from work, catch up with friends and loved ones.
It gives people opportunity to travel out of town, for people living in Lagos, they see this period as a time to see their family members that live outside the state.
This season, women expect lot of gifts from family, friends and love ones with the belief that there are many items that can serve as gifts for them. On the other hand, men also have items that can be given to them as gifts this season.
Here are list of gift items one can get for men this Christmas; Leather wallet, Cologne, Wristwatch, Socks, All-star chuck, Sunglasses, Pyjamas.
So men, ask for your gift from your friends and family this Christmas and ladies, get your husband, boyfriends and father amazing gifts.