I look Forward To Having Sex—Budding Singer, Waliyah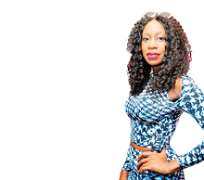 Fast-rising UK-based Nigerian sensational singer, Waliyah, who recently released her single titled 'Rumour Has It,' has maintained that she will not have to sleep around for money or fame.
The singer explained that she has worked very hard to get to where she is today and is not desperate to gain relevance through the back door.
Waliyah told New Telegraph that, "I can't sleep with any man for money or fame, even if he promises to help me sign on to the biggest record label in the world. I won't."
The artiste further said she loves s3x and looks forward to having it.
In her words, "S3x is good. In fact, I like and look forward to it, but then, it should be between two people who are in love, especially couples. But to have it with a man in exchange for material things, well sorry, I won't."