STAR QUEST HAS CHANGED OUR LIVES FOREVER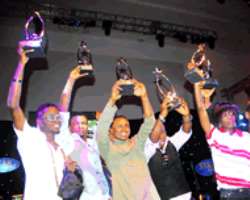 Juke Box band members raise aloft their plaques after winning Star Quest 2010
Everything was set. They had rehearsed and got ready for the D-day. Like Ace Vibes and Sapphire Blue, the two other bands that made it to the grand finale of the just concluded Star larger sponsored musical talent hunt, Star Quest, Juke Box was sure of winning the ultimate prize. And going for the band was its cohesiveness, vocal ability and dexterity of most members on different musical instruments.
The six-member Juke Box comprises young and talented Eghosa Frank, leader of the band whose performance on the drums is a delight to watch any time, any day. Enigmatic Joshua Itietie is also a unique piece in the band. A lead guitarist, he's blessed with a special skill of rapping way beyond imagination. And for Ogun State-born Agunpopo Josephine Olamide, the only lady in the band, her powerful voice combined with her dancing skills rank her among the best vocalists and dancers in the land.
Gentleman Epanty Gregory plays the keyboard with a flourish while Asindi Sam is a wonder to watch on the bass guitar. All of these talented people together with handsome looking Wilson Emeka, a vocalist of repute, indeed, stand out Juke Box as a band that will rock the Nigerian music scene to its foundation. Believe!
And on the night of decision, Juke Box did not disappoint if only with the rendition of their self-composed song that drew accolades from the guests that thronged the New Exhibition Hall of Eko Hotel and Suites in Victoria Island, Lagos. So, when the votes were counted and curtains were drawn, Juke Box took a bow as the band that turned out the public choice.
They won the competition beating to the second and third positions respectively Ace Vibes and Sapphire Blue on a night that brought to the fore Nigeria's abundant music talents.
Talking about their new status, bandleader Frank states that Star Quest has changed their lives for the better. 'Nigerian youth are highly talented; they need people to help them nurture the God-given talents and bring them into the limelight. That's exactly what Nigerian Breweries has done for us. Now, our lives are transformed for ever,' he says.
Indeed, Frank's comment cannot be farther from the truth. Apart from earning fame, Juke Box has also run into huge fortune. They smiled home with coveted prizes of N7.5 million recording contract, N3.6 million cash, a brand new mini van, one year guaranteed accommodation in Lagos and appearances in all Star lager events this year. Juke Box will also participate in the popular 10-city concert tour, Star Trek as well as perform at the prestigious international music concert, Star Mega Jam come December.
But then Emeka confessed they almost lost the crown to Sapphire Blue if not for their choreography. 'It's God that brought us to where we are today,' he states, adding, 'Sapphire Blue posed the greatest threat to us. We only beat them by our choreography, which was our joker.'
And for Olamide, Juke Box' last woman standing, she's feeling damn good and crazy about the whole thing right now. Giving it to her band mates who she described as 'unique, wonderful and fun to be with', she says tolerance, co-operation, understanding and above all God had helped them win the contest.
On their next line of action, Frank, who says he's been playing drums for a long time, vows that Juke Box will take Nigerian music to the next level. 'After this, we're taking music to the next level. We hope to surpass The Pulse, 2009 winners, in every ramification. In fact, Nigerians should expect the best from us.'