Ballack Unsure Of Chelsea Future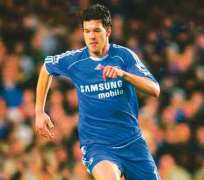 Michael Ballack has admitted he is unsure about his future at Chelsea as all contract talks have been put on the backburner.
The Germany international is out of contract at the end of the season and could leave Stamford Bridge on a free transfer.
Ballack is hoping to win a new two-year deal at Chelsea, but Blues owner Roman Abramovich will not discuss new contracts until the end of the season.
The news has alerted a number of clubs to Ballack's possible availability with former Chelsea boss Jose Mourinho reported to be keen on bringing the midfielder to Inter Milan.
Ballack is not too worried about his situation as a number of other players are also in the same boat at Chelsea.
'There are no contract talks with Abramovich for me now, and there are other stars at Chelsea who are in the same situation,' Ballack told Bild.
'Even coach Carlo Ancelotti does not know anything.
'Despite that, I am feeling very relaxed about my situation. I want to carry on playing at the highest possible level for another two years. I feel I can do it.'