Why I Wear Provocative Outfits—Chika Ike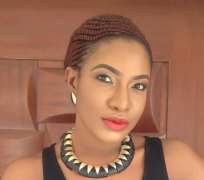 Some fans for sometime have not been comfortable with the way Nollywood actress, Chika Ike, has been exposing some parts of her body like part of her labs and cleavages.
Never bothered by what people may say or think about her, the actress has been able to keep her head high while soaring in her endeavours.
Currently working on her movie promotion, 'Miss Teacher,' the actress has disclosed that the reason why she prefers going on short cloths is just to flaunt her beauty.
She stated that dressing in tan-top and shorts enable her display how sexy she looks especially her legs. "I can't do without my tan-top and my short, so I can show off those sexy legs."