ANAMBRA POLL: Politicians Acquire Police Uniforms, Arms, Hire Militants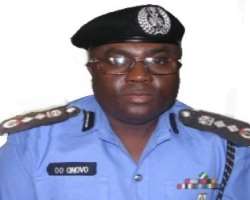 PHOTO: INSPECTOR GENERAL OF POLICE, OGBONNAYA ONOVO.
Abuja Jan 7, (THEWILL) – Next months gubernatorial election in Anambra State is set to pose a challenge to Nigeria's intelligence community as reports indicate that candidates have recruited militants, kidnappers, armed robbers, including acquiring police uniforms and high caliber weapons.
The Inspector General of Police, Ogbonnaya Onovo confirmed this in Abuja on Thursday while meeting with the governorship candidates. He said that the police was in possession of reliable evidence showing large acquisition of arms and mobile police uniforms, warning that the security situation of Anambra State is worrisome.
"Intelligence at the disposal of the police has it that some candidates are training militia groups while some outlawed organizations are amassing arms to be used during the campaign and election.
"Also, information revealed that other candidates intend to import mercenaries into the state to swell the ranks of miscreants and hoodlums in order to cause mayhem during the election.
"Some of you have concluded arrangements for the importation of the mercenaries from other states especially the Niger Delta. I felt that it is necessary that I let you know all this.
"We have been following with deep concern the activities of the major parties in Anambra, especially in the past two months. I tell you, we, of the police force, are not happy with what is going on.
"Some of you are already procuring mobile police uniforms. And you intend to distribute these uniforms to political thugs, cultists and members of motor park unions to be used to support and help you to fight, manipulate voters and other sundry activities.
"We also have information that you are planning to use some unregistered services and some of them are retired armed robbers or ex-convicts. We heard it also that the politicians are to use drivers association, that is taxi, bus, Okada riders, market union associations, Onitsha Market Union Traders Association (OMUTA), among others to rig election.
"Our intelligence also shows that the former chairman of NATO and now chief executive of a mass transit company has also perfected plans and is ready to finance one of the governorship candidates and is said to have recruited members of the disbanded NATO association to carry out their plans on election day," he narrated.
The candidates for the governorship election scheduled to hold on February 6, 2010 include: Mr. Peter Obi (APGA), Dr. Andy Uba (LP), Dr. Chris Ngigi (AC), Professor Charles Soludo (PDP), Prince Nicholas Ukachukwu (HDP) and others.
|
Article source